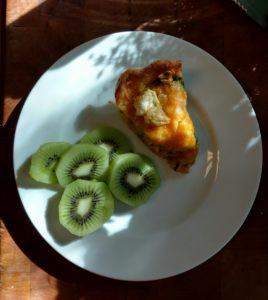 Is there a more perfect brunch food than quiche? Don't answer that– I know it's quiche. These adorable egg-pies are so versatile and so tasty, as well as reasonably easy to prepare, so whenever I want a food that perfectly straddles the breakfast and lunch boundaries, I know what I'm making. Recently, it's been all about Crab Quiche.
And could there possibly be a better way to elevate a humble quiche than to add crab to it? I got super lucky this winter when my mom brought me several 8oz tubs of picked lump crab meat from her trip to Maine, and I knew almost immediately that at least one of those tubs was destined for quiche greatness.
I went rogue and totally improvised this recipe, and like most quiches, you can play with the proportions to make it the way you like it. I was going for sort of a quiche-crab cake hybrid, opting for a higher proportion of crab meat to egg filling, but of course, you can do what you like! Essentially, we blind bake our crust, mix up some tasty crab and accoutrements, and then merely fill in the gaps with a lightly beaten mixture of eggs and milk. Season the way you like, top the whole thing with crushed Ritz and more cheese, and you are on your way to brunch.
I think this would be simply delicious with some dry white wine and a little fruit or salted tomato on the side, but that's just my basic bitch talking. Do you!
Everything in this delectable seafood quiche is negotiable, except for the crab! Using your pre-baked pie crust, you can vary the proportions of the filling considerably without ruining the final product, just be smart. The crust recipe makes two 9" crusts, so save crust #2 for a second quiche later in the week, or make a giant crab deep dish quiche.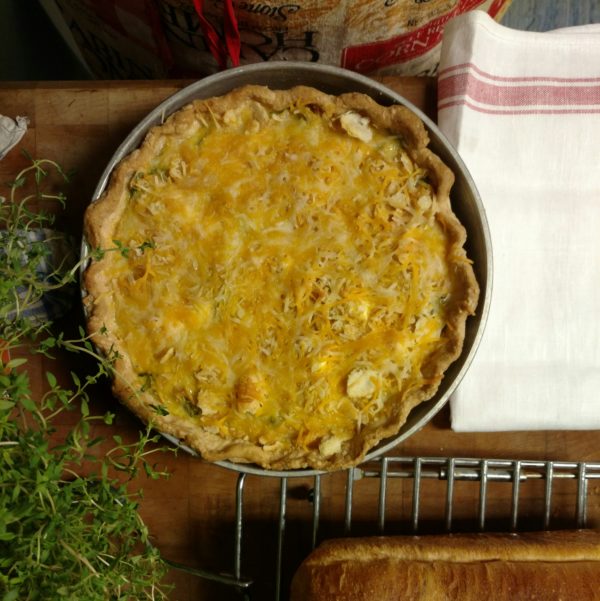 | | |
| --- | --- |
| | |
Measure out 6 tbs of water into a ramekin or cup, and add a few ice cubes. Combine salt, sugar, and flour in a food processor (or be prepared to get creative with a blender).

Add butter and lard and pulse to create a coarse meal texture.

Drizzle in ice water, pulsing as you go. You want the dough to lightly hold together when pressed together.

Turn the dough out onto a lightly floured work surface, and knead gently, incorporating anything loose. Cut into two equal parts and form them into disks, then wrap them in parchment or put into airtight Pyrex. (You'll only be using one for this recipe, so keep the other one safe from drying out.) Chill for 30 minutes-an hour.

Preheat the oven to 375. Unwrap one of your chilled disks, and roll it out on a lightly floured surface until it is just big enough to fill your pie plate with a bit or overhang. Use your rolling pin to swoop it up and place it over the pie plate, allowing it to "slump" down into it. Trim and crimp however you like.

Prick the bottom of the crust with a fork all over, then bake until it achieves desired color. (I like it pretty toasty and golden.) Remove from oven and allow to cool before filling.
Warm a few tablespoons of your favorite oil in a saucepan. Saute your diced onion until slightly fragrant. Add the jalapeno and cook until soft.

In a bowl, add crab, cheese, cilantro, green onions, spices, salt and pepper. Add sauteed onion and jalapeno mixture on top, and lightly combine everything. Place this mixture in your baked pie shell.

Lightly beat the eggs and milk together (using the same bowl if you want to save on washing up). Pour over quiche filling in crust, lightly shaking to even out.

If desired, scatter small chunks of cream cheese throughout the quiche, burrowing slightly beneath egg mixture.

Crush handfuls of Ritz crackers over top of quiche, then sprinkle with cheese. Quantity and consistency up to you, my friend.

Bake in center of the oven, on a baking sheet if available, for about 25 minutes or until the topping is golden brown, and the center is set. Allow to cool before slicing for maximum ease.
What's your favorite brunch go-to? Is my quiche obsession healthy? Challenge me in the comments!