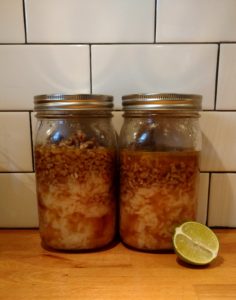 Ah, soup. Every family's got one, and every gal has a favorite. While I have a long, sweet relationship with Tom Kha, the well known Thai coconut based soup, it's Khao Tom, its less glamorous Thai rice porridge cousin, that springs to my mind when I think of homemade soup. My dad used to make buckets of this stuff when I was a kid, mixing together starchy boiled rice with ground pork and ginger, and then topping it with whatever was around– scallions, cilantro, peanuts, and my perennial fave, crispy fried garlic.
When I visited Thailand, we ate this in every town and village for breakfast, piled high with fixins. It satisfies the craving for something simultaneously brothy, spicy, salty, savory, tangy, and sweet, which is something I love about Thai food. This version can be thrown together in a big batch, kept in jars in the fridge, and then warmed as needed throughout the week for pretty much any time you need a little comfort food!
Here is the recipe that works for me, including the crispy fried garlic, or Garlic Crunchies, as my dad calls them (patent pending).
Note: I've used ground pork in this recipe because that's how my family makes it, but the whole concept here is to use whatever you have around to make the soup, so adjust away! I think this would be delicious with tempeh, seafood, leftover rotisserie chicken, etc. I'm going to try sweet potato next time!
What is your favorite comfort food soup? Can anything beat this khao tom?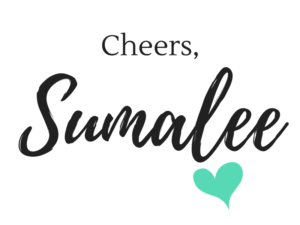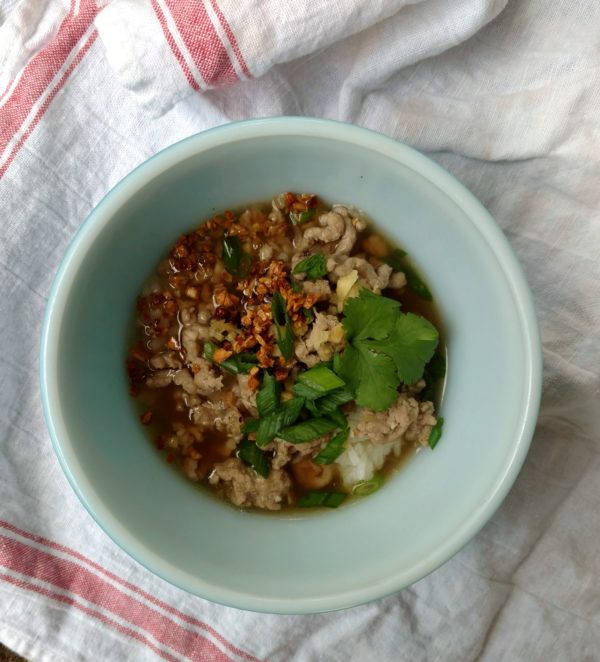 | | |
| --- | --- |
| | |
Add 1 cup of rice and two cups of water to a medium pot, and bring to a boil, then turn down and simmer for 5 minutes. Please, for the love of god, salt your water.

Add 4 cups of water or so to the pot, bring back to a boil, then let simmer for 12-15 minutes while you prepare the rest of the soup. The idea is to have soft, over boiled rice, and you can remove it from heat when you feel it gets to this point.*
Over medium high heat, saute the onion in oil until fragrant, then add the lemongrass and ginger and saute until fragrant. Season with salt and pepper.

Add the ground pork and garlic. Season with salt and pepper. Break up the pork into small pieces, cooking until all pink is gone. Add in the fish sauce and soy sauce, incorporate well.

Pour the stock over the pork mixture, bring to a brief boil, and then simmer for about 5 minutes. You can eyeball the amount of stock based on the broth-meat ratio you desire.

If eating immediately (and why not?), portion some boiled rice in a serving bowl, then pour the soup mixture over it to taste. Garnish to your heart's content and enjoy! If you are saving for later, allow everything to cool, and then store rice and soup in a single container. When you're ready to eat, warm a portion and garnish.
Heat the olive oil in a small skillet or saucepan over medium heat. Add the garlic, and gently stir. Babysit until garlic has some nice color and appears sufficiently crispy. Remove from heat to avoid burning. You can easily do this while the pork is cooking and it will still be hot when it's time to serve!
On boiled rice: If you plan to save the soup to eat over a course of time, you should be careful not to overcook the rice too much. It's still boiled rice, but if it is super mushy and then you add it to the soup broth to store in the fridge, it will be super mushy. Matter of preference,  but I like my rice to still be defined in this soup.
You can also use leftover rice, just boil it with the broth when it's ready.
Garnishes: This dish is made to be garnished to death! My favorite toppings are fried minced garlic, fresh ginger (as if there isn't enough already), cilantro, scallions, and a squiggle of sriracha, but any condiments you desire are also appropriate. Sweet chili sauce, lime, nuts/seeds, avocado, bean sprouts, alfalfa sprouts, Thai basil, etc would all be delicious!