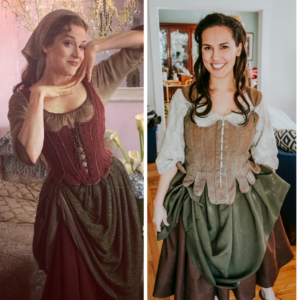 If you are embarking on a production of the 2013 Rodgers and Hammerstein's Cinderella, there are so many things to be excited about! The music is beautiful, the new book is incredibly funny, and of course, all of the magic will wow your audience. If you're wondering how to pull off all of those costume transformations, you have come to the right place! I'm so pleased to offer a complete suite of my own Cinderella transformation costumes for rent as of fall 2017.
To rent these costumes, please fill out the form below!
Why Your Production Should Consider Renting Your Transformation Costumes
Ella's transformations are a huge part of this production; one might even say they are the biggest effect in the show! Creating a smooth and undetectable transformation takes a lot of research and experimentation. In fact, I've spent nearly three years perfecting my design for these costumes, gradually tweaking and improving the function and look of the costumes. Most costumers don't have the opportunity or luxury of spending even more than a few weeks learning to make this type of specialty costume, much less years, and additionally, most productions only run for one or two weeks, which makes the investment of so much effort a bit of a waste.
I love seeing schools and other groups put on this musical, which is why I decided to make my own set of transformation costumes, to give the opportunity of an impressive transformation without all of the work and heartache that goes along with developing the design. Knowing that your costumes were designed to transform and have a proven track record will allow your team to rest easy and truly enjoy each performance.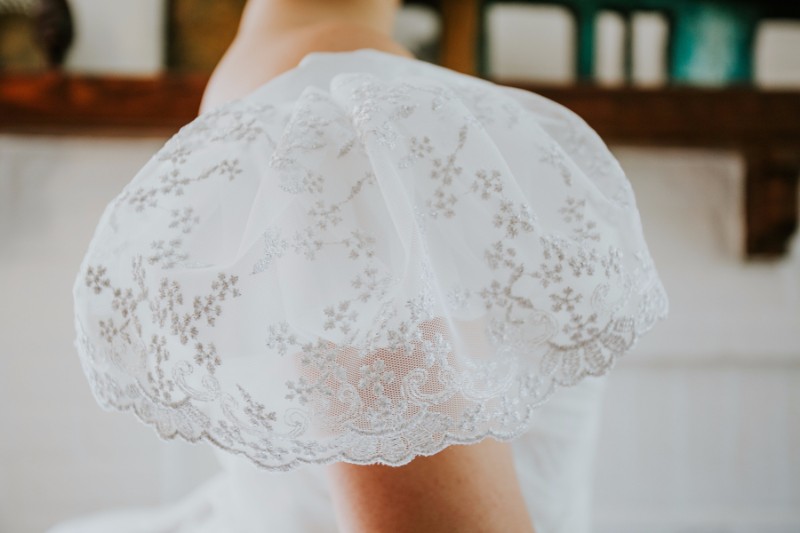 About My Cinderella Transformation Rental Costumes
The number one thing to know about the transformations in this version of Cinderella is that Ella wears a progression of costumes throughout the show that make up her transformations, and each costume has a different job within the context of the production. In other words, while many think of the transformations in this show as being a single "transformation dress", it take an entire set of costumes to make the transformation work smoothly.
My costume suite includes almost every costume Ella will wear in the show, and it adds up to about 12 garments that make up four looks. The only pieces missing are the wedding gown, and her two capes, though I plan add these eventually.
My Cinderella Transformation Rental Costumes Include:
My Act I Transformation (Peasant to White Gown) is based on the Tony Awards version, in which Ella spins and transforms on the spot. In the original script and the Broadway staging, Ella whirls around the stage and goes almost offstage to complete her transformation, with the help of a set piece.
My Act II Transformation (Pink to Gold) is based on the original staging, in which Ella throws her rags in the air and transforms on the spot as they shower down on her.
Sizing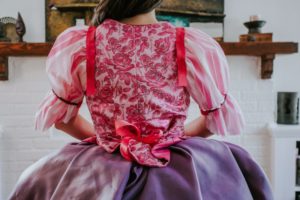 My costumes are meant to be adjusted for the individual actresses portraying Ella. In some cases, this is done by a back lacing closure, and sometimes the seams and hems must be altered. I provide full instructions and guidance on altering the costumes to fit.
The costumes have an approximate range of a 32″-37″ bust, 24″-30″ waist, 32″-40″ hip, with a max height of about 5'8″.
Pricing
I offer the costumes as an entire suite, as well as separately as an Act I set and an Act II set. The standard rental period is for 7 days to cover tech and one weekend of shows, and additional days may be added for rehearsal time at daily rate.
Act I Set (Peasant Costume, White Ball Gown and Transforming Costumes): $600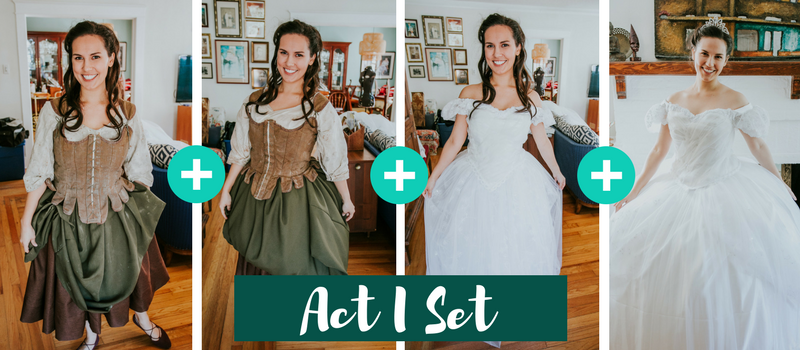 Act II Set (Pink Dress and Gold Gown Transformation): $600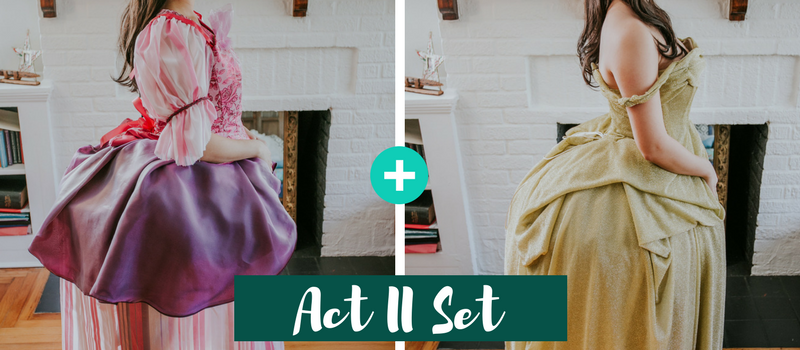 OR
Entire Suite (Act I and Act II): $1000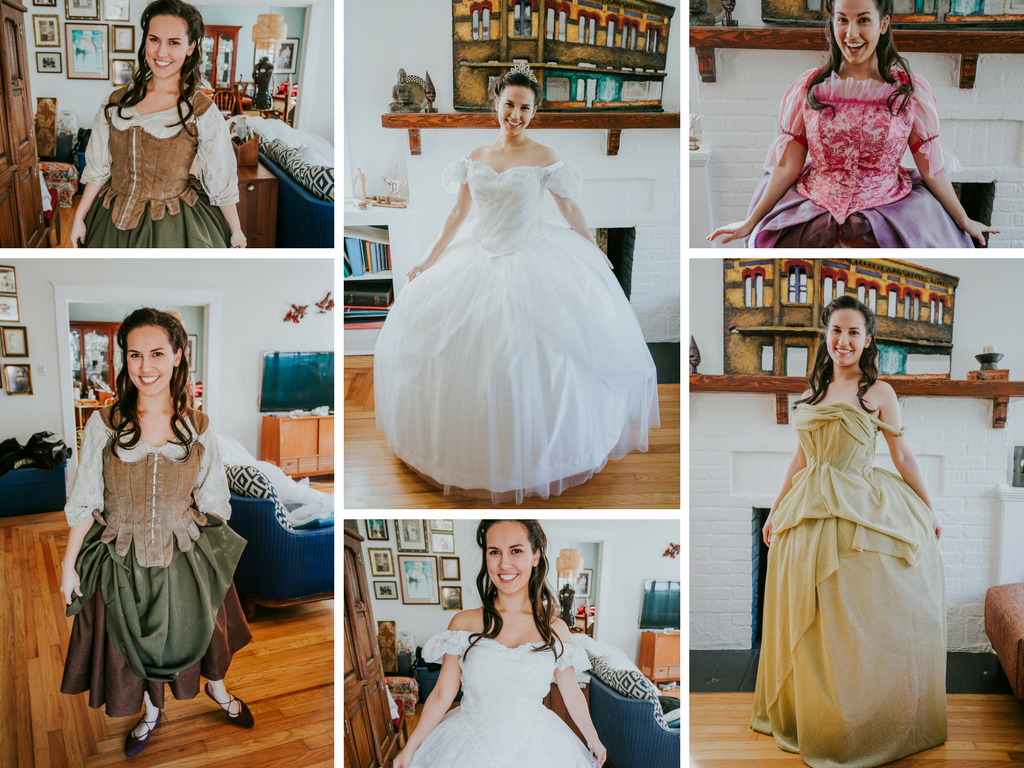 NOTE: Act I and entire suite rentals booked after 12/31/17 will include a cloak that transforms back into the peasant costume during the Pursuit in Act II (not pictured…for now!).
Deposit: $300 for each "set", and $600 for the entire suite.
Shipping: Calculated based on the location of the production, and will be paid by the renter.
So the initial price for the entire suite of costumes, is $1600 + shipping. The entire deposit will be refunded after the costumes are returned to me if they are received on time and I do not have to repair any damage beyond ordinary wear and repairs, making the end price $1000 + shipping for the entire suite, provided everything is in order. The daily rental rate is $50 per set, per day.
I realize that for some productions, these costs may seem staggering. However, as I'm sure you understand, these costumes require an enormous amount of work and accumulated knowledge, and I view them as an investment. It took me almost 200 hours to complete these costumes, and the rental rate represents a fraction of my labor cost, which I gradually earn back with every rental. It is a huge risk for me to send these costumes to a production and expect them to return to me safely and in the same condition, so I charge what I feel is fair compensation for the highly specialized service I offer. While I wish I could share my costumes with everyone, they are not necessarily the right match for all productions.
How to Rent My Cinderella Transformation Rental Costumes
If interested in renting these costumes, please fill out the form below. You can expect a personalized answer within a few days. Be sure to list and questions or concerns in the comments section so I can best address your needs.
Thank you for your consideration, and I hope we may work together soon!